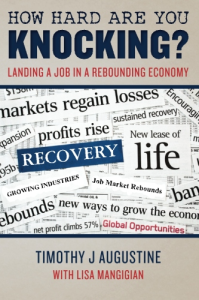 In this age of globalization, corporate downsizing and outsourcing, everybody is asking the same question: "How can I jump into the job market and learn to sell myself?" Tim Augustine has the answer. "How Hard Are You Knocking?" provides a set of detailed guidelines that will help you:
Assess and set your career goals
Target specific companies that match your goals through networking
Develop a marketing strategy to sell yourself
Craft an effective resume that communicates the value you can provide
Dress for success to make a positive first impression
Prepare for and give a successful interview
Develop a game plan to succeed at your new job
Continue networking throughout your career.
Whether you're a recent college grad or a seasoned professional, the detailed information and advice in "How Hard Are You Knocking?" will help you win the interview and land a new job. This will become a dog-eared reference book you'll keep using throughout your career.
Timothy Augustine is the Co-Founder and Managing Partner for the Herman Draack Company, an international Human Resource Consulting Firm specializing in Executive Recruitment, Project Outsourcing and Human Resource Strategy implementation with offices in Chicago, San Francisco and Washington D.C. An author and professional speaker, he tours the nation presenting the How Hard Are You Knocking Seminar Series to college students and professional organizations. He is also a mentor for College Bound, a volunteer organization that provides opportunities for economically disadvantaged Chicago-area high school students by providing four-year college scholarships, college preparation, mentoring, tutoring and summer jobs.
Tim is a graduate of the Kellogg School of Management's (Northwestern University) Executive MBA program, and has earned degrees in Marketing and Speech Communications from Kent State University. He currently resides in the Ann Arbor, MI area with his wife and three children.